POTETTE PLUS® won another GOLD AWARD with PRACTICAL PARENTING and PREGNANCY awards in September 2009.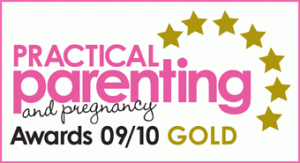 In a final selection up against products from Fisher Price, Tesco, etc it was acclaimed as the Best Potty Training Product for 2009/10.
This makes seven awards won internationally since its introduction eighteen months ago.
Also in September 2009 POTTETE PLUS® enjoyed a premier position at the KIND & JUGEND International baby show in Cologne.
Established distributors globally were able to meet up with their customers and discuss the latest POTETTE® developments.
Much acclaim was given by distributors and retailers to the new retail merchandising unit, which has been designed to assist those stores that have shelf space difficulties.